What Google Cannot Teach? - Synopsis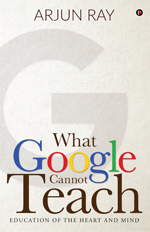 The book is not exclusively about international education in the 21st century, or teachers and schools. It is about the school of life in how to find fulfilling work, how to unlock one's potential, how to succeed through purpose, meaning, passion and effort, and how to be happy. Google does not prepare us on how to cope with a future we do not know, and jobs that do not exist today. Unlearning, relearning, teaching and innovation are indivisible. They are part of the process of being a lifelong learner.
The book presents a case to institutionalize leadership and innovation; a journey that must begin in schools. The processes that are recommended are based on the author's military experience of 38 years in war and combatting insurgency, the complete success of a socio-political initiative to bring peace in Ladakh as a three-star General, and 17 years as head of some of India's best International Baccalaureate schools.
The book is about transformation that begins in classrooms, and is continued in our personal and professional lives. The way ahead is to prepare leaders to lead from tomorrow; to design what their tomorrow should be, and not wait for tomorrow to happen.
But there is a serious challenge that lies in the path to modernization and reform – teachers. Transformation at the cutting edge, the school, cannot happen unless teachers are entrepreneurial – innovative and risk-takers, and are ready to move out of their comfort zone. As a community, teachers the world over are not entrepreneurial. They are protagonists for status quo. This explains why in the past 225 years, the basic structure of schooling has not changed. It is all brick and mortar, both inside and outside the classroom.
The book has been built on a clear scaffolding founded on the perceived future of education, the role of a leaders and teachers, and innovation as the number one leadership competency in the 21st century.

Purchase Book